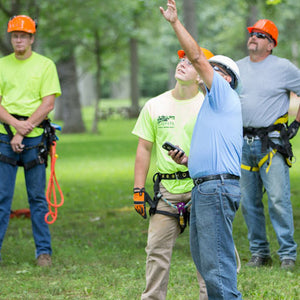 Electrical Hazard Training Certification
Make Sure Your Employees Know What it Means to be Safe

This is a one day class with a minimum of 8 hours. This class is designed for municipal, urban forestry, or other tree care employees whose work requires a 10' safety zone around energized wires. Completion of this class satisfies the requirements of OSHA 1910.331.
Please be aware that this class is not designed for tree workers who perform line clearance tree pruning, tree removal in proximity to wires, or brush re-clearing.
Aerial lifts available through special arrangement only.
The prerequisites of this class are:
Ability to climb to 20' with a rope and saddle
Proof of CPR and first-aid training
In this class you will learn:
To identify electrical hazards
The concept of directional pruning
Current requirements of the latest ANSI Safety Standards
To identify typical electrical hardware and construction
Correct use of a chainsaw on the ground and aloft
To tie 10 common knots used in tree care
Correct pruning techniques in proximity to electrical hazards
In order to pass, you must:
Pass tests at the end of each chapter of the textbook
Perform a safe aerial rescue
Upon completion of this class, you'll receive:
A one-year certification from ACRT Arborist Training for Electrical Hazard Training
ANSI Z133 Safety Standards
Wallet identification card for electrical hazard training
ISA Continuing Education Units (CEUs), if requested