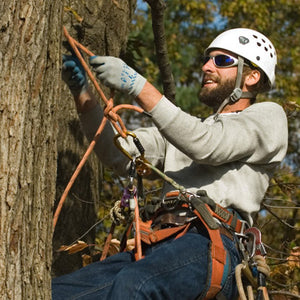 Basic Arborist
Price includes a course manual, which will be provided at the time of your training.
---
Have Your New Employees Get the Knowledge They Need
This is a five day class with a minimum of 40 hours. The Basic Arborist class is built for individuals looking for instruction on professional tree care training and on climbing with a rope and saddle. This class size is limited to 12 people at a time, and will be taught both hands-on and in the classroom.
Aerial lifts available through special arrangement only.
The prerequisites for this class are:
Physical ability to climb using rope and saddle
Minimal fear of heights
Ability and willingness to follow directions
Willingness to work outdoors in all weather
Must be drug and alcohol-free during training
In this class your employees will learn:
Basic tree function, structure, and growth patterns
Basic tree identification
Eight common knots used in tree care
To climb to a height of at least 20'  
How to complete a work-skills climb in the field
Basic limb walking
Tree removal techniques
Current ANSI Safety Standards
How to use chainsaws safely
How to complete a safe aerial rescue
Upon completion of this class, individuals will receive:
ACRT Arborist Training certificate of completion
ACRT Arborist Training's Working In Trees textbook, complete with current ANSI Safety Standards
ISA Continuing Education Units (CEUs), if requested
A pass/fail grade
Locations:
ACRT (Arlington, TX)

2501 Centennial Dr.

Arlington, TX 76011
ACRT Services, Inc. (Stow, OH)

4500 Courthouse Blvd., Suite 150

Stow, OH 44065
ACRT Pacific (Valley Springs, CA)

3463 Double Springs Rd., Building 3

Valley Springs, CA 95257