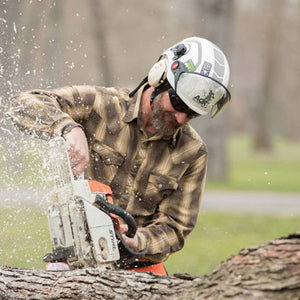 Chainsaw Training Class
Price includes the ANSI Z133 Safety Standard, which will be provided at the time of your training.
This two day course is designed for individuals seeking instruction on how to properly use and care for a gasoline- or battery-powered chainsaw and is ideal for homeowners looking for guidance or first responders who are required to use chainsaws in emergency situations. Class size is limited to 15 students and will be taught both hands-on and in the classroom.

Prerequisites:
Physical ability to hold and control a chainsaw.
Ability and willingness to follow directions.
Willingness to work outdoors in all weather.
Must be drug and alcohol-free during training.
 What you will learn: 
How to safely use chainsaws
How to identify the parts and properly disassemble, clean, and reassemble the chainsaw
The chainsaw's safety features
Useful knots
FLEM
How to conduct a job briefing, site inspection, and tree inspection
How to recognize when to call in the professionals
 What you will receive: 
ACRT Arborist Training certificate of completion
ANSI Z133 Safety Standards
A pass/fail grade
Students are encouraged to bring their own PPE and gear, but ACRT will have gear on-hand for students to share.