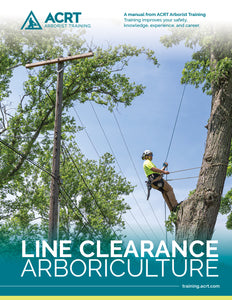 Line Clearance Arboriculture Manual - 2023 Edition
Field Guide to Technique, Efficiency and OSHA/ANSI Compliance, newly updated for 2023.
ACRT Arborist Training's Line Clearance Arboriculture Manual is a field guide to technique, efficiency, and OSHA/ANSI compliance. The 2023 edition is completely updated and fully equipped with new photos and illustrations to help readers learn how to tie knots, identify tree species, and more. This manual provides line clearance guidance to arborists of all levels and includes a copy of the ANSI Z133-2017.
Chapters:

Safety Standards for Arborists
Emergency Preparedness
Chainsaw Use & Safety 

Ropes & Knots
Climbing
Aerial Lifts
Basic Tree Biology
Tree ID
Pruning Principles
Tree Removal
Electricity and Electrical Hazards
Electrical Systems and Hardware
Line Clearance Tree Pruning

Line Clearance Work Practices
Storm Restoration
Plus Glossary and Index.
---
No Refund on Manuals:
ACRT Arborist Training manuals are non-refundable at any time.