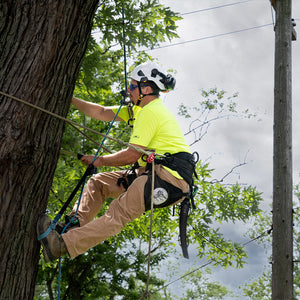 Line Clearance Arborist Recertification
This is a one-day course with a minimum of 8 hours. This course is offered exclusively through ACRT Arborist Training, and is the only national line clearance certification program in the United States. Successful completion of this course satisfies OSHA's electrical safety training requirement for students.
The Line Clearance Arborist Recertification is designed for the currently-ACRT LCA Certified tree worker whose person, tree, or equipment comes within the 10' safety zone around energized wires. ACRT Arborist Training certification as a Line Clearance Arborist or Line Clearance Arborist Trainee is issued upon satisfactory completion of the class.
Aerial lifts available through special arrangement only.
The prerequisites for this class are:
Current ACRT Line Clearance Arborist Certification in good standing
In this class your employees will learn:
Updates to OSHA and ANSI Standards
Aerial Rescue best practices
In order to pass this class, individuals must:
Perform a safe aerial rescue by the end of the class (manual or using an aerial lift)
Pass a general knowledge classroom test
Upon successful completion of this class, individuals will receive:
A one-year certification from ACRT Arborist Training as a Line Clearance Arborist or Line Clearance Arborist Trainee*
Hardhat decal for line clearance training
Wallet identification card for line clearance training
ISA Continuing Education Units (CEUs), if requested
Locations:
ACRT (Arlington, TX)
2501 Centennial Dr.

Arlington, TX 76011
ACRT Services, Inc. (Stow, OH)
4500 Courthouse Blvd., Suite 150
Stow, OH 44065
ACRT Pacific (Valley Springs, CA)
3463 Double Springs Rd., Building 3
Valley Springs, CA 95257