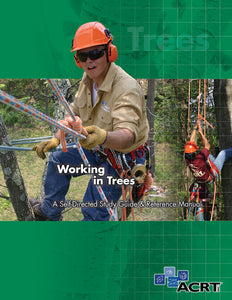 Working in Trees Manual
Contains 24 chapters, more than 300 pages. Easy to read with step-by-step instructions and hundreds of graphics. Includes the ANSI Z133.
Chapters:
Introduction to Tree Care
Safety Standards for Arborists
Terminology
Basic Tree Biology
Hazard Trees
Arborist Ropes and Knots
Chainsaw Safety, Use, and Maintenance
Stretching and Lifting
Arborist Equipment
Chipper Safety and Use
Preparation of the Worksite
Recognizing Electrical Hazards
Introduction to Tree Pruning
Aerial Lift Bucket Truck Operations
Introduction to Climbing
Aerial Rescue
Roping and Rigging
Stump Grinder Safety and Maintenance
---
No Refund on Manuals:
ACRT Arborist Training manuals are non-refundable at any time.